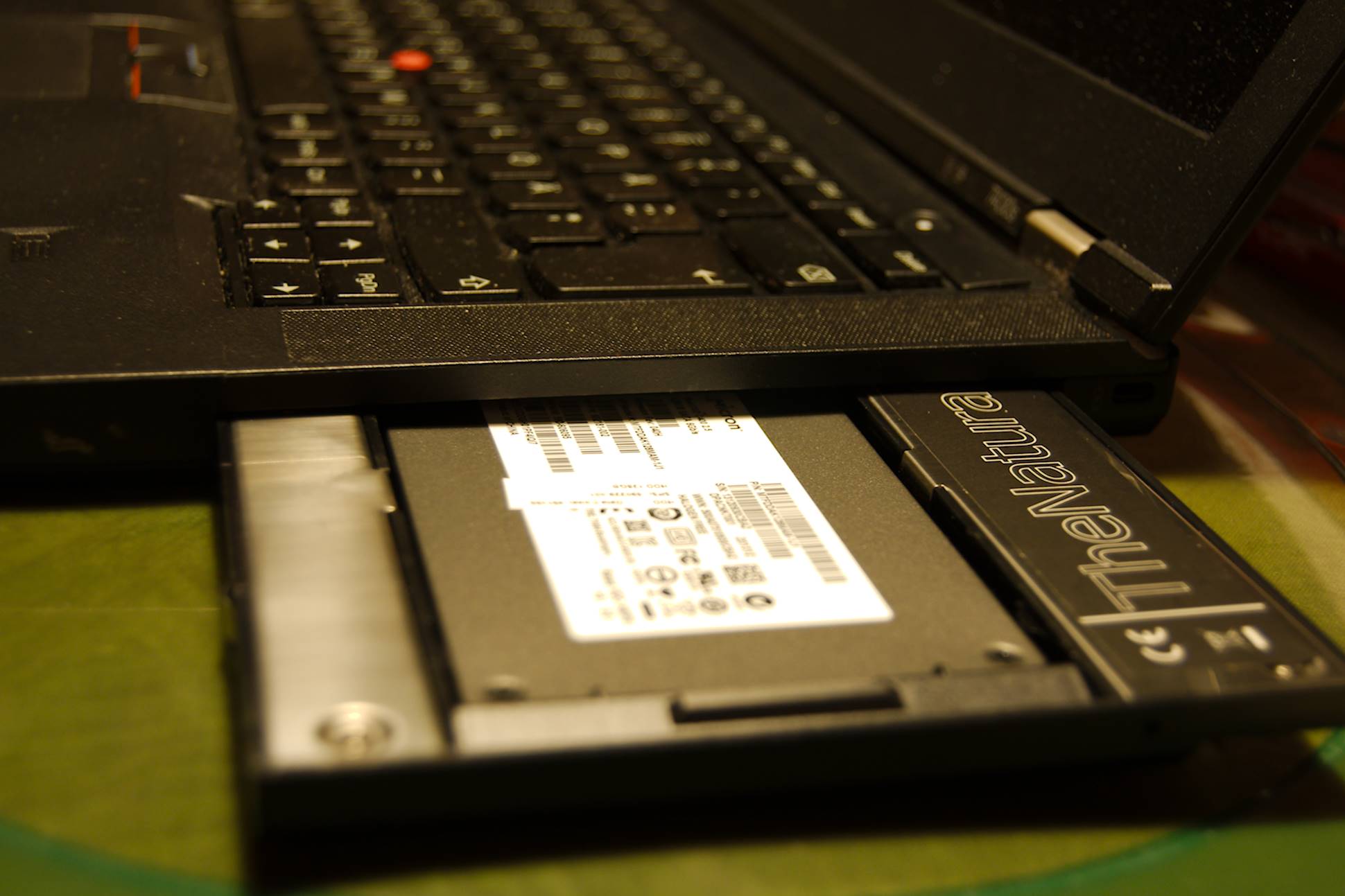 I have a Lenovo ThinkPad T430s. I bought it refurbished a few years ago. In the ordinary drive slot, HDD 0, I have an SSD with Linux operating systems on it (currently Linux Mint, Debian and Elementary). The laptop was purchased with Windows 10 Pro included, which I have on another drive. On this older laptop, which is a good example of Modularity, it is relatively easy to swap drives. But, better to have both installed, of course. This is possible by using the ultrabay slot, a slot typically used for DVD.
I bought a "Slim SATA 5.25'' Installation frame". According to the specification, it is suitable for HDD/SSD, made by Delock and manufactured in China. It is very simple to slide in the SSD drive into the frame, and then insert the frame into the ultrabay. However, beside the LED showed some life existed, nothing happened. I dived into the BIOS (F12 key on T430s when laptop is starting up) and looked around but nothing solved it. For example I checked in the BIOS setup, tab Security, selected I/O Port Access, that the "ultrabay (HDD/Optical) was Enabled. I then read various articles on internet and understood it appears as a standard frame like mine cannot work, it must be a customized version for this laptop. I had no intention at this time to try to modify the frame, which might be doable by spending some time and having the right tools.
So I bought another frame for the ultrabay instead, a "HDD/SSD Uultrabay Slim module for IBM Lenovo ThinkPad...T430s... Adapter Caddy 9.5 mm made by The Neutral 2020" manufactured in China. Also in this frame, it is very easy to slide in the SSD into the frame, and insert the frame into the ultrabay slot.
This time I came one step further - I got an error message. The error code by the Lenovo laptop (I do not remember it exactly) stated that the SSD in the ultrabay was defect and must be replaced. I double checked this SSD by swapping it into the main slot, and it worked properly there.
So another dive into the BIOS and I was successful this time:
In BIOS setup, tab Startup, select Boot: At the bottom of the list, there is a heading "Excluded from priority order", where I found "Other CD" and "Other HDD". I moved both of them into the "Boot Priority order". This appears to have been the missing BIOS setup. After this change it is possible to boot both from HDD 0 (main drive slot) and HDD 1 (ultrabay)!
So, my advice to get the ultrabay to work as an additional drive:
Make sure that the ultrabay frame is designed to work for the specific laptop
BIOS settings - Security - I/O Port Access - ultrabay (HDD/Optical) - Enabled
BIOS settings - Startup - Boot - Excluded from priority order - move eg Other HDD to the Boot Priority order
Beside those two BIOS settings, more BIOS settings may be needed to check, like SATA Controller Mode Option to be set as AHCI (at least if you use SSD).
Finally, a tip regarding the Windows 10 Pro: Windows has a tendency to require multiple restarts when the operating system is updated. Before such updates is triggered, it will be easier if that drive is higher in priority order than the other drive. The priority order is easily set in the BIOS settings - Startup - Boot - Boot Priority order, eg by moving items with the F5/F6 keys, in my case to move HDD 1 to be above HDD 0.
Henrik Hemrin
29 December 2021