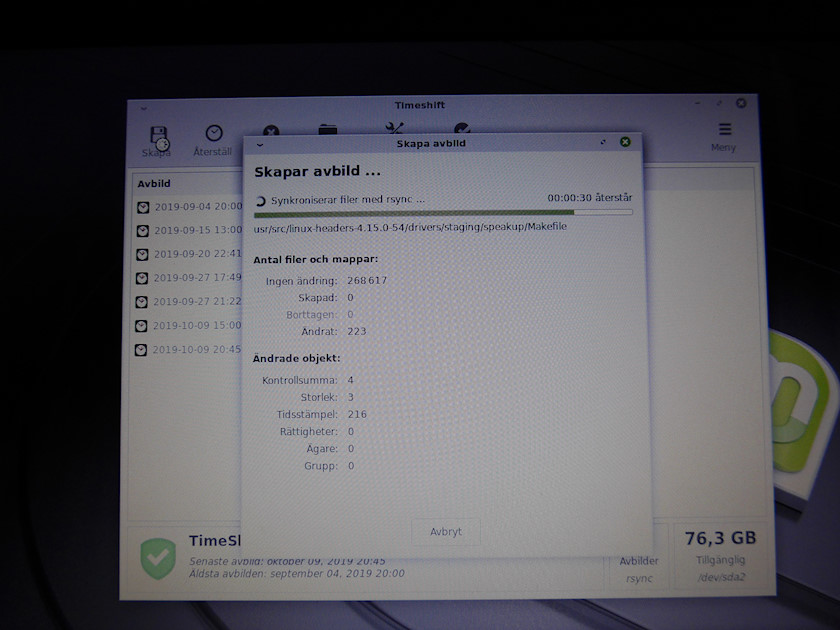 Linux Mint is an operation system which just works! But not this time. I was surprised of this problem being so difficult to solve. Here is the story:
I had connected my scanner to my laptop, to scan some documents. I used Simple scan, the software which is the basic (simple!) scanning software, coming preinstalled with Linux Mint.
The first document of a couple of pages went fine. I continued with the second document, consisting of more pages including some maps which I scanned in a higher resolution. It worked all the way until I pushed Save. The software stopped working, frozen. I believe it happened because my laptop is a low spec one, with only two GB RAM memory - believe, but not knowing.
Probably I turned off the laptop with the power switch, which maybe was a mistake causing the deeper trouble. In any case, the restart did not solve the program, Simple scan did not start again. Otherwise the laptop worked I tried with re-install of Simple scan, but log file still stated System Out of Memory and killed the process.
I posted a query at Linux Mint Forums. The community is fantastic! It didn't take many minutes until I had the first response.
I installed Xsane, which is another scanning software, and that worked. But Simple scan did not.
Several messages in the forum, analyse and trials followed. But nothing led to a solution or understanding of the behaviour of Simple Scan.
I decided to make use of TimeShift, a built in tool for backup of the system, with the possibility to roll back the system to an earlier safe stage.
TimeShift worked, it did indeed roll back in time. But to my surprise, the problem remained despite I rolled back to before it happened. I tried twice more, even further back in time. I am not sure if it is a setting in TimeShift I do not understand, but it is a bit scary if this safe guard does not work. Do you have any thought why TimeShift failed to help me?
In any case, the most important protection is to always have one or preferable multiple back-ups of data.
At this time, another odd problem had occurred: the Start menu had changed from Mint Start meny to a standard Xfce start menu. Maybe because I had done another forced turn off with the power button. Also this didn't go back with TimeShift.
Therefore, I decided to re-install Linux Mint. I have very little data on this laptop, so no big work to save data - and of course I already had the backup of the data. Linux Mint is fast to install, maybe 20 minutes. Then comes software updates, installation of additional software and settings, but not a big task. It had been more work if it had been my main computer.
With the new Linux Mint 19.2 Xfce installation, Simple scan works normally, as well as everything else!
Instead of forcing power off with the power button, I got this advice in the forum:
If you need to forcefully shut down Mint, dont use the power switch. Instead give
sync command first.
Then hold ctrl, alt and prtsc these 3 keys and type reisub to reboot.
For more details of this issue, read the complete forum thread:
https://forums.linuxmint.com/viewtopic.php?f=90&t=303211
Despite this trouble, I highly recommend Linux Mint, or any other Linux distribution of your choice.
Henrik Hemrin
12 October 2019