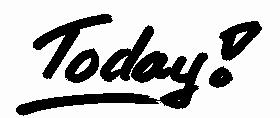 "Don't be afraid! I am here with good news for you, which will bring great joy to all the people. This very day on David's town your Saviour was born- Christ the Lord! And this is what will prove it to you: you will find a baby wrapped in strips of cloth and lying in a manger."
The angel's word in Luke 1.11-12.
TODAY 22nd of December 1998.
---

What a beautiful morning! A lot of snow, very white. The silence. It was so silent when walking to the underground. Then, waiting for the bus, I was looking on all the sparkles the snow caused on the electric power to the underground trains. Had a long walk tonight as well, partly walking in 10-30 cm of snow. Fantastic! Good to be indoor again.
TODAY 7th of December 1998.
---

I'm still coughing, specially in bed. Haven't biked to work for a week, and only had a few short walks. Tired. A lot of work. Was into city today, Saturday, for a quick shopping. Fantastic lot of shoppers in the city! Back at home, I saw Sweden win Davis Cup in tennis again. Great! And a lot of snow has come, it's white and beautiful and around zero degrees.
TODAY 5th of December 1998.
---

I pity myself!
A few days ago my throat was beginning to feel bad, was at home yesterday and went back to work today so I can save the company... But it is impossible to keep the mouth shut and don't talk so it's not too good tonight. Will try to sleep early, hoping for a better or at least not worser tomorrow.
TODAY 26th of November 1998.
---

We have had some snow, not much, staying several days now. A neighbour nexthouse has already Christmas/Advent lamps lit in the window. And I'm pretty sure it is a Christmas tree behind the curtains in another flat close to me. Too early to my opinion!
Dark when I go to work, dark when I come home. But some days this week have been beautiful with the snow and a blue blue sky and so fresh air.
TODAY 21st of November 1998.
---

"There are catcalls throughout the set, and finally, just before the last number, someone yells "Judas!" Dylan replies, "I don't believe you!" turns to the band and snarls "Play fucking loud!" Drummer Mickey Jones cracks the snare like a rifle shot and The Hawks roar into "Like A Rolling Stone"."
That is a cite from a booklet included in the Bob Dylan CD Live 1966.
Today was the first time this season it was a bit icy on the roads at my running. Not much icy, but just as much as I needed to be alert. Right now I'm listening to Bob Dylan more than 30 years ago...
TODAY 11th of November 1998.
---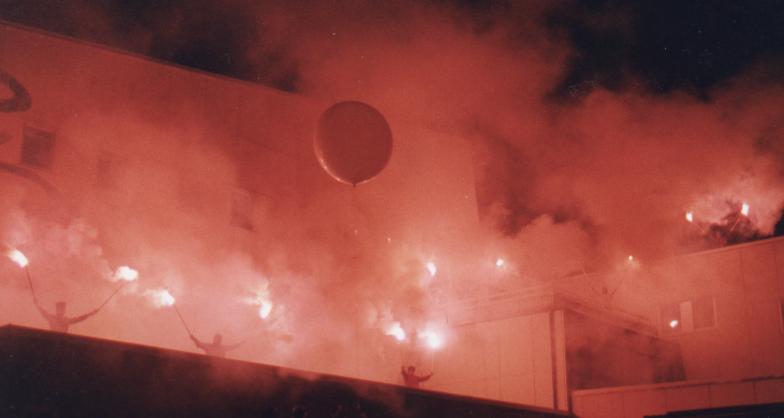 A pic from "The invisible city", Norsborg spring 1998.
TODAY 28th of October 1998.
---

Selected pages. I felt I needed, as everyone else, to collect some links... click on Selected to find them.
It has been a very beautiful day today, with a lot of sun (you hear that Sparkle)! I ate breakfast at one o'clock, really needed to sleep. Tomorrow it's winter time, it will be dark every day when I go home from job. Time to lit a lot of candles, drink tea, read books and listen to music. And have evening discussions with friends.
TODAY 24th of October 1998.
---

I think it's time for me to tell again about my cherry tomatoes. It's a while since I told you!
Two weeks ago, the same day as Lidingöloppet, I celebrated and ate the first red tomatoe! Later, it has been colder, so I soon decided to take the plant inside before it was frozen. It was huge! I can tell you, it is not easy to move, you would like to have very long arms to do reach and then it is quite heavy. A few days later, I cut it down and put the some of it in water. Two plasic bags was filled with the plant...
Still, the remains of the plant is in water and the tomatoes becomes red rapidly, I take a few tomatoes each day. Fantastic how the temperature helps!
Finally today, I must give my tribute to my extraordinary friend Ninnie. If you understand any swedish, I recommend her website: Ninnie
TODAY 19th of October 1998.
---

When you think you have lost everything,
you find out you can always lose a little bit more.
That was a short extract from Bob Dylan's lyrics for Trying to get to heaven, one track on Time out of mind.
Great lyrics to my opinion!
TODAY 12th of October 1998.
---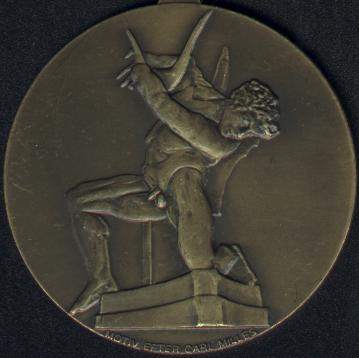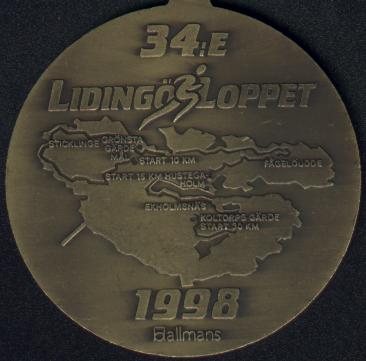 3 h 11 min 37 s. Yes! My fifth "Lidingöloppet" is done, the medal below. 30 km cross country. The weather was terrific, sunny and relatively warm (5-10 degrees Celcius). However, I found that running is not only done on experience, you need to train as well. Also, the extra kilos on the stomach is an extra burden... After 4 km I checked the time, thought that this year the start was quick but found it had taken some minutes more than I expected. That made me a little bit tired. As always when running for such a long time, the freshness goes up and down. After 10 km or so, I had a discussion if I should use the Bajamaja (toilet) next time. Well, I decided to go on, but I think it took some energy to control the stomach not to open during the running. It is said that the elite let it be released when they run, but that's nothing for me.
I'm quite satisfied with the result, not the best but not the slowest either.
When finished, it's time for shower. You can choose the sports centre or outdoor. At the sports centre the warm water capacity is not enough, so I choose to do it directly outdoor close to the finish. I reckon' the wet grass was quite cold to undress... then I walked to the shower and found the water wasn't as warm as expected.. and then I walked in the wet grass again and dressed. Yippey! I thought it all looked like a pigsty, but in stead of pigs it was naked men.
On the transfer bus to the underground I was close to faint- it was very crowded, I had to stand, it was warm and no air and the traffic jam made the ride slow. I was happy to come out again!
That was my Sunday 4th of October. Today, Tuesday, my legs are a little bit stiff and some toe nails aching, but I'm fine!
TODAY 6th of October 1998.
---

On Friday afternoon I saw a man, I think it was a man, with a quite big stomach, not at least the bottom part. In the evening I saw the strange comic movie Maffia. In that movie a man find his woman again and told her they had a child together. A combination of those two things came to my dreams that night, I was pregnant!!! And I often forgot it, others had to remind me to the release the belt on the pants. Wonder, does pregnant women forgot they are pregnant?
The mental training for next Sunday has started, I will run 30 km cross country. Lidingöloppet for the fifth time. Within a few days the pasta training will start. I did my last long running today, about 10 km. Wasn't as easy as I wanted it to be, but ok. If I have a good day on Sunday, I still have some hope to do a time like the other years, would be great to improve a little.
TODAY 27th of September 1998.
---

It has been some days of quite warm and sunny weather. Yesterday it was relly difficult to bike to and home from job, the sun directly in the eyes. At the weekend we had election for the goverment, I did my duty in a democracy and voted for the best alternative. The artist Ulf Lundell has announced he will release a new CD in a few weeks and have a tour as well. Great! He will also release a new book soon. When will my book be released? Hmmm, when will it be written? What will the story be about?

TODAY 24th of September 1998.
---


Work, work and more work. Last days I have spent much more time than I want at work. But it's ok, hope I will complete some things tomorrow when I have a deadline. Last weekend was a half extra day, spent at my parents home in the south of Sweden. Some warm hours, but when I went out running in the evening I was so wet wet wet... and it was almost completely dark in the forest before I came home. Had to be careful where I put my feets in the wet, slippery and dark tracks in the forest.
Good news: they promise warm days for the weekend, almost warmer than the summer days! If you have followed my tomatoe story, I can tell you I've got a lot of green tomatoes now. Yesterday I took the first four inside to have them red, I hope.
Summer... the photo is from summer in Stockholm city.
TODAY 17th of September 1998.
---

Summer! Very misty morning, and I was happy to have gloves when I biked, learned from yesterday... But later in the morning, the sun broke through and we had lovely blue sky with quite nice temperature. Promising for my tomatoes (see a pic on Yesterday-page)! It can be good opportunities to take photos this weekend!

TODAY 3rd of September 1998.
---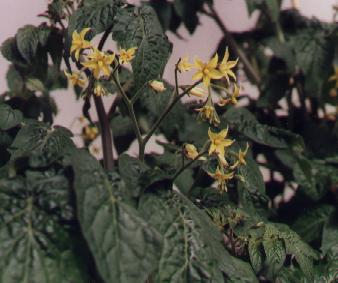 Tomato plant (cherry tomatoes) on my balcony pictured a few days ago. Still some hope for red tomatoes despite the cold summer.

TODAY 27th of August 1998.
---

Just after the shower, after an early evening jogging, I was invited to eat a raspberry pie... so soon it was time for half an hour of biking. But it was definitely worth it (thanks Tomas!), as well as the company. On the ride a lot of grasshoppers played so beautiful for me. What a wonderful world we have. Why are we so often so careless to the earth and people living here, when God has created all so fantastic? My home has a slight smell of vanilla tonight, I tried a vanilla incense a couple of hours ago.
TODAY 23rd of August 1998.
---

This summer I grow "Cherry tomatoes" on my balcony. The summer has been quite cold, so I havn't seen any single tomatoe... when I tried some years ago the tomatoes grow nicely. But anyway, also this year my tomatoe plant has been very green and nice and with nice yellow flowers. But today, when it's soon autumn, I saw the first very small green tomatoes. If we have a nice late summer, I have some hope for red tomatoes!
Yesterday, I bought lovely tasting caramels in an old factory in Hudiksvall, a town in the north of Sweden.
TODAY 22nd of August 1998.
---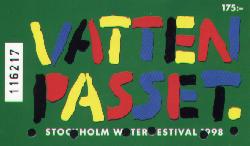 The Stockholm Water Festival is over for this year.
Nine days of festival.
The last artist to perform for me was Patricia Kaas, from France.
Good, although the rain was falling heavily from the night sky.
Before that I listened to Mikael Wiehe, still going strong.
TODAY 16th of August 1998.
---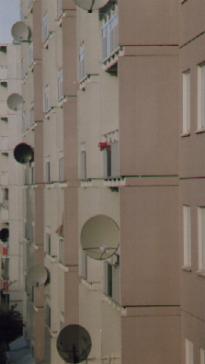 TODAY 6th of August 1998.
---
Firstly, a Human being.
Secondly, a Christian.
That is the order of Life!
---Grundtvig---

TODAY 3rd of August 1998.
---
This page collects old Today!-pages.
© Everything on this site is Copyright Henrik Hemrin.
Welcome to link any page or ask for permission to copy!