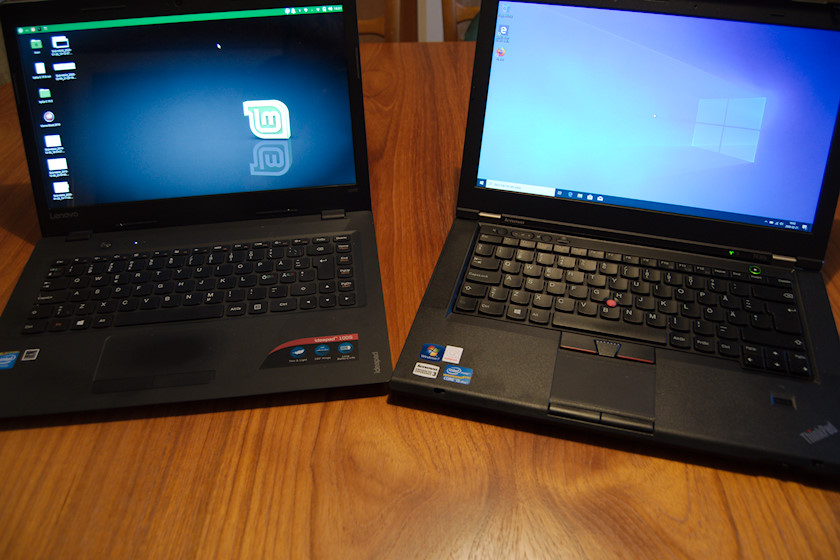 I have two laptops. Same brand but different in how they are built.
In April 2016, almost four years ago, I bought this cheap laptop from Lenovo (to the left on the above photo). Cheap in the meaning it was not really a good deal - low price with low quality.
Before that, I had done my journey from Microsoft Windows to Apple macOS. But I had a need for a Windows application. I considered to install Windows on my Mac Mini, but the laptop with Windows included was in same price range as a Windows license. I though I could have use for a laptop when travelling. But too soon I found out that it was too cheap. It could not manage Windows updates. I converted it to a Linux Mint laptop, and now it is usable again and without issue to keep it updated.
Linux operating systems (there are numerous of variants out there) generally requires less resources for the same job, and do not need to "tell" the manufacturer a lot about what I'm doing with my computer. Linux operating systems generally are free and open source, you do not need to register, the developers do not need to have a clue you have the operating system, nor what you are doing.
I had also found another way to run my Windows unique application: With CrossOver from CodeWeavers, I can run that software both on macOS and Linux Mint without Windows. So I do not need the Windows OS any more.
In December 2019, two months ago, I treated myself with another laptop. This time with the main purpose to explore and learn Linux better. My next step in the OS journey may well e from Apple macOS to a Linux OS. Even if I have Linux on the first cheap laptop, it is too weak to run heavier applications. The hard drive on the new laptop is big enough to install multiple Linux distributions on it, and at the same time I also have Windows 10 Professional installed. I decided to have Windows in case I will need it and also to keep up knowledge about Windows.
My new laptop is actually older than the cheap one! It came into use in August 2013 (based on warranty info on the Lenovo support pages)! It has a Windows 7 label on it. I bought it refurbished from a company specialized in refurbished IT equipment, including warranty. It is in the Thinkpad series, which started at the IBM time before Lenovo acquired that business, while my first one from 2016 is an Ideapad.
The new laptop is business/professional segment laptop. The difference in building practice between the two laptops strikes me.
The Thinkpad is built to last. It is upgradable (or for that matter downgradable). It is easy to replace the hard drive, add RAM memory, a slot for CD/DVD-player. And more.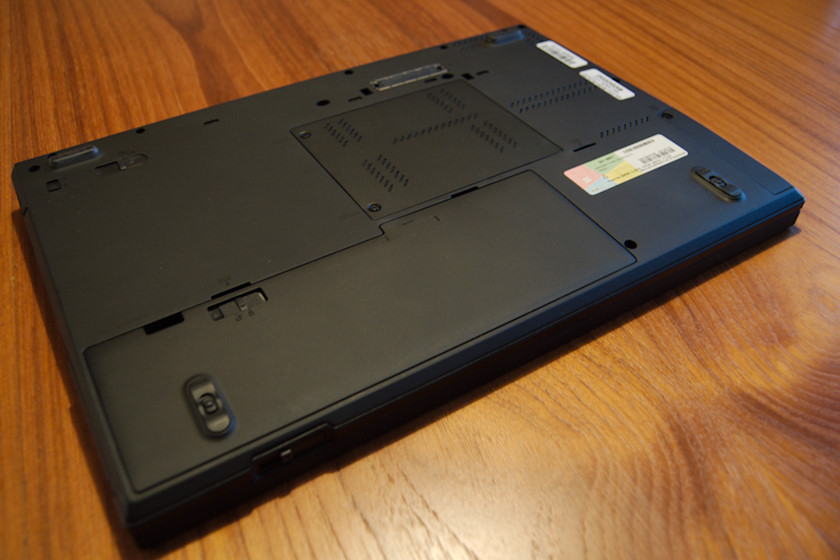 Such CD/DVD slot may not be so interesting anymore for that purpose. But there is another interesting possibility: In the CD/DVD slot can an adapter be inserted, to hold a secondary drive!
My Ideapad does not have any opening. It is basically impossible to do any upgrade or repalce anything on it (repairis possible). The Ideapad is built to use as it is equipped from start. When that is not enough, the cheap laptop is waste (recycling). While the several years older Thinkpad can be upgraded and stay relevant for years, and is built much more robust (and also has a better performance specification from start).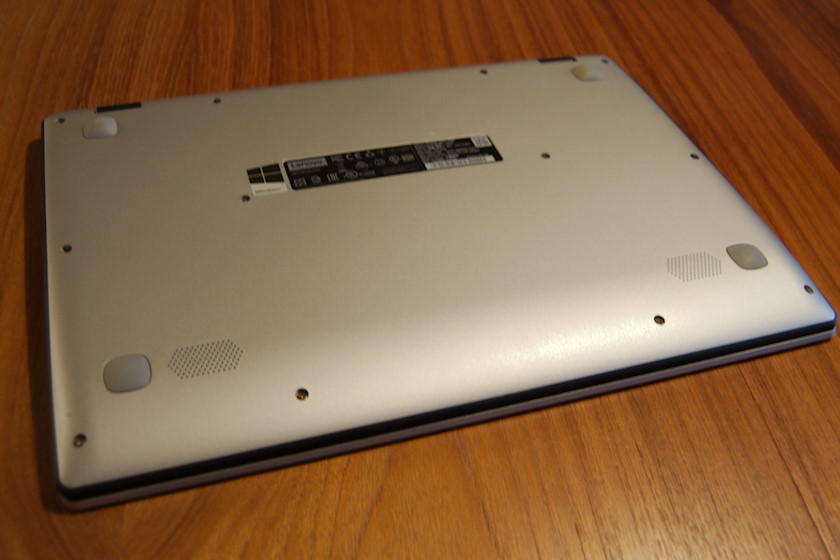 Here is a comparison of some key data:
| | | |
| --- | --- | --- |
| Brand | Lenovo | Lenovo |
| Model | Ideapad 100s-14IBR | Thinkpad T430s |
| Store | Elgiganten | Inrego |
| Price *) | 1990 kr | 2242 kr |
| My purchase date | April 2016 | Dec 2019 |
| Date usage | April 2016 | August 2013 |
| State | New | Refurbished |
| Segment | Home | Professional |
| CPU | 1.60 GHz Dual core | 2.60 GHz Dual core |
| RAM | 2 GB | 8 GB |
| Hard drive | 32 GB | 120 GB |
| OS | Win 10 Home 64 | Win 10 Pro 64 |
| Size | Thinner | 23x34x2 |
| Weight | Lighter | 1.8 kg |
| Screen | 14 inch | 14 inch |
| Resolution | 1366x768 | 1366x768 |
*) 2000 kr (SEK) = 205 USD.
The Ideapad looks nicer. And if carry around a lot, weight make sense, as well as thickness. Those are its pro-side in the comparison. But otherwise, the older Thinkpad to about the same purchase price for me is a better choice. It has likely a longer future when it comes to both technical performance as well as robustness, built to last much longer. If in addition going over to a Linux operating system, the laptop can be up to date and run well even longer, compared to using Windows.
For sustainability, it is generally be better if we use laptops longer than we often do today (Based on a basic understanding I have on the subject, but I have not a deeper knowledge on the subject).
When buying a laptop, as well as many other products, it is well worth to look deeper than to only purchase price and finish.
It is well worth to consider a refurbished business/professional laptop instead of a new home/consumer segment laptop.
Henrik Hemrin
22 February 2020