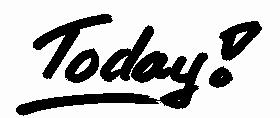 It's election day today. It's a precious moment to go to the election hall, in a school, seeing many other coming and going. The swedish flag is rised. The day is a victory for democracy.
TODAY 15th of September 2002.
---
I saw a poster in a department store a few days ago, about the possibility to book time for advise for children fashion. Oh dear.
TODAY 24th of July 2002.
---
So has the summer arrived to Stockholm! I wouldn't like to have summer all year around. But still, it would be so much easier to live if it was summer or rather summer/spring all the year. Perhaps as in San Diego. No need for thick winter clothes, no need for studs on the running shoes or on the bike.
A few weeks ago I went to two seminars about parties, like Front National in France, which are not friendly to foreigners, why they have been so big lately in many countries. And the risk for having a big one in Sweden, today ther are small here. But the populistic party Nydemokraterna was quite big, and someone thought that they saved us from having a really big bad party.
Talking about countries, despite everything, I really like the Soccer World champiionships...
TODAY 10th of June 2002.
---
"Everyone wants to save the world, but nobody wants to help mum with the washing-up"
PJ O'Rourke in the book All the trouble in the world.
TODAY 3rd of March 2002.
---
To the honour of Fadime, who was murdered yesterday in Uppsala, Sweden, because she has dishonoured her family by choosing the boy she loved in stead of the one the family had choosen.
May the world be a better place where we respect each other as individuals with equal value and rights. May I do my very best to contribute to this world.
TODAY 22nd of January 2002.
---
I should be playing badminton right now, bad my stomach didn't want to. First working day after vacation, maybe that was too much for it.
Read about the company Enron, how this big and strong company could fall so totally into being bankrupt.
TODAY 21st of January 2002.
---
Today is for sure not updated everyday nowadays. Doesn't mean I do not think... but so much time and energy is consumed by the work, happy as I am to have a work to get money for bread and rent. Now I have Christmas vacation and it is so good! Time for an easier pace, time for reading, meeting family and I hope some friends as well. And use some time for writing as well, keeping that dream alive. Outdoor it is so beautiful with the white snow, I was out running today, great but had to be careful, pretty much of snow. After I read Alexandra Pascalidou's exiting book, I have read a couple of more books, one very good is "De ovanliga"; potraits of "odd" swedes with text and photos, a beautiful book that makes me smile when reading. Happy new year!
TODAY 1st of January 2002.
---
This page collects old Today!-pages.
© Everything on this site is Copyright Henrik Hemrin.
Welcome to link any page or ask for permission to copy!